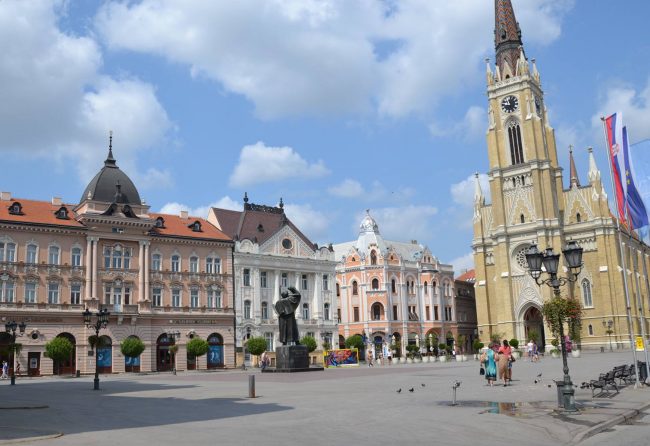 Novi Sad is the capital of the Autonomous Province of Vojvodina and represents the second largest city in Serbia with a population between 300 and 400 thousand. Historians speak of a young city since it was founded 300 years ago, namely in 1694, though, first archaeological sites date back to 3000 years BC. February 1st is the day of our city, when in 1748 Novi Sad was proclaimed a free royal town.
Novi Sad is located in the southern part of the Pannonia Plain, on the left bank of the Danube, that is on the 1255th kilometre of its flow, most of its part is situated in the Southern Bačka area on an altitude of 72 to 80 meters, and with its suburbs it makes up some 20% of Vojvodina's population.
Novi Sad has a variety of events: the theatre festival "Sterijino pozorje", the children festival "Zmajeve dečije igre", poets gatherings "Brankovo kolo", the Novi Sad music festivities "Vojvodjanska tamburica", and recently the festival of street musicians. However, today's most popular landmark of Novi Sad is the music festival EXIT. From the very beginning the inhabitants of Novi Sad paid attention to their spiritual life. It took care of the cultural lives of their inhabitants. Literature and journalism as well as publishing activities were developed. Speaking of cultural institutions the following were established: The Serbian library (1845) and the Serbian National Theatre (1861), and the most important was the move of the Matica srpska to Novi Sad in 1864. Matica srpska is the oldest Serbian cultural institution of this century and was founded in Budapest in 1826. Within its institution also other bodies were founded such as the Library of the Matica srpske, the Gallery of the Matica srpska, the Museum of Vojvodina, The Museum of the City of Novi Sad and others. The epithet "Serbian Athens " speaks of the golden times of the culture of Novi Sad. In addition to it institutions, prominent personalities contributed the most to its development . Novi Sad is a city of a short history but interesting people and events.