STUDY PROGRAM INTEGRATED ACADEMIC STUDIES OF CHEMISTRY TEACHING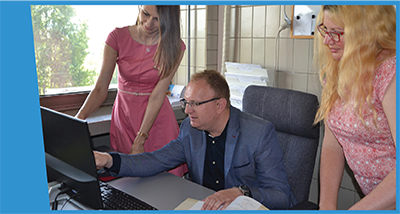 The aim of the study program is to develop a teacher's competencies for the teaching field, subject and methods of teaching chemistry. Upon completion of the study program Integrated Academic Study of Chemistry, the student will be able to demonstrate advanced knowledge and a broad critical understanding of chemistry and to be involved competently in the realization of the chemistry teaching process in elementary and secondary education. The student will be able to independently plan experiments and apply advanced methods, techniques and methods of research in chemistry and chemistry teaching, to objectively adopt, evaluate and present research results as well as to solve complex problems in chemistry and chemistry teaching.
There is a need for this profile of experts in primary and secondary schools, educational and scientific institutions with legally defined titles, in professional, developmental and pedagogical supervisory services within administrative bodies. Students who complete this study program are also competent for managing work in chemical laboratories.
Graduated students of this study program are competent to continue their education at the third level of studies – Doctoral Academic Studies in Teaching Methods of Natural Sciences, Mathematics and Computer Science. After completing five-year studies and earning 301 ECTS, the student acquires the professional title Master of Chemistry Education.