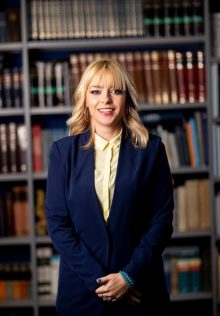 Dragana Tomašević Pilipović, PhD
Associate Professor
Chair of Chemical Technology and Environmental Protection
CONTACT
University of Novi Sad Faculty of Sciences
Department of Chemistry, Biochemistry and Environmental Protection
Office: 16/V
Adress: Trg Dositeja Obradovića 3
21000 Novi Sad, Serbia
Tel:+ 381 21 485 2734
e-mail: dragana.tomasevic@dh.uns.ac.rs
SCOPUS Autor ID: 55362943400
2013. PhD in Environmental protection science, Faculty of Sciences, University of Novi Sad, Serbia
2010. MSc in Chemistry, Faculty of Sciences, University of Novi Sad, Serbia
2009. BSc in Chemistry – Engineer for quality control and environmental management, Faculty of Sciences, University of Novi Sad, Serbia
SCIENTIFIC AND ACADEMIC POSITIONS
2020-. Associate Professor, Faculty of Sciences, University of Novi Sad, Serbia
2014-2020. Assistant Professor, Faculty of Sciences, University of Novi Sad, Serbia
2013-2014. Associate Researcher, Faculty of Sciences, University of Novi Sad, Serbia
2010-2013. Research Assistant, Faculty of Sciences, University of Novi Sad, Serbia
Water pollution
Water protection
Drinking water quality
Industrial wastewater treatment
Fundamentals of Environmental Management
Green remediation
Hazardous waste
Tomašević-Pilipović, D., Dalmacija, M.†, Dalmacija, B., Agbaba, J., Trtičković, J., Ugarčina Perović, S.: Water pollution, Faculty of Sciences University of Novi Sad, Novi Sad, 2015 (In serbian).
Dalmacija B., Maletić S., Krčmar D., Dalmacija M., Tomašević D., Ugarčina Perović S., Pešić V. Practicum in water protection II section, Faculty of Sciences University of Novi Sad, Novi Sad, 2014. (In Serbian)
Dalmacija M., Maletić S., Agbaba J., Dalmacija B., Molnar J., Ugarčina Perović S., Tomašević D. Practicum in drinking water quality, Faculty of Sciences University of Novi Sad, Novi Sad, 2013. (In Serbian)
Water, soil and sediment analysis
Treatment of wastewater and water processes
Treatment of sediment and different waste contaminated with toxic metals and effectiveness assessment of applied treatments
Environmental risk assessment
BEuSED, Research reinforcement within environmental aspects: step forward to beneficial use of sediment, IDEA, Science Fund of the Republic of Serbia (01.2022-31.12.2024), http://beused.rs
SmartWaterTwin, Twinning for Smart Water: Thinking and Rethinking Wastewater Management in Circular Economy Frame, HORIZON-WIDERA-2021-ACCESS-02-01, Horizon Europa (2022-2025)
CarbIrON, Nano zero valent iron supported on carbon base materials as novel composites for environmental application: Development and assessment, 2020-RD-1-NANOBIOTECH, Framework for Access to the Physical Research Infrastructure of the Joint Research Centre (2022)
NoBiNano, Development of novel biochar based nanocomposites for contaminated sediment remediation, Call to improve and support the mobility of researchers within bilateral scientific and technological cooperation Serbia – Hungary, The Ministry of Education, Science and Technological Development of the Republic of Serbia in cooperation with the National Service for Research, Development and Innovation of Hungary (2022-2023)
Development of new materials for application in environmentally friendly technologies for the cost-effective remediation of contaminated sites threatening cross-border regions – MATCROSS, Hungary-Serbia IPA Cross border Co-operation Programme (2011-2013)
Arsenic and ammonium in drinking water: implementation of a cross-border Platform for safe water – ARSENICPLATFORM, IPA program prekogranične saradnje Mađarska-Srbija (2011-2013)
Improving remediation technologies and developing methods for assessing the risk of polluted sites, Ministry of Education, Science and Technological Development of the Republic of Serbia (2011-2019)
Tomašević Pilipović D., Kerkez Đ., Dalmacija B., Bečelić-Tomin M., Došić A. (2017) Potential Application of Nano Zero Valent Iron in Environmental Protection, chapter in the book: Advances in Applications of Industrial Biomaterials, Springer International Publishing, Page:179-199. eBook ISBN: 978-3-319-62767-0. DOI: 10.1007/978-3-319-62767-0. Hardcover ISBN: 978-3-319-62766-3.
Leovac Maćerak A, Kulić Mandić A, Pešić V, Tomašević Pilipović D, Bečelić-Tomin M, Kerkez D. (2023) "Green" nZVI-Biochar as Fenton Catalyst: Perspective of Closing-the-Loop in Wastewater Treatment. Molecules. 28(3):1425. https://doi.org/10.3390/molecules28031425
Slijepčević, N., Tomašević Pilipović, D., Kerkez, Đ., Krčmar, D., Bečelić-Tomin, M., Beljin, J., Dalmacija, B. (2021) A cost effective method for immobilization of Cu and Ni polluted river sediment with nZVI synthesized from leaf extract. Chemosphere, 263. doi 10.1016/j.chemosphere.2020.127816
Kerkez, D. Radjenović, D. Pilipović, D.T. Rončević, S., Dalmacija, B., Leachability and microstructural analysis of clay and lime stabilized/solidified polluted sediment – Long-term performance, Periodica Polytechnica Chemical Engineeringthis link is disabled, 2020, 64(1), pp. 93–105
Rađenović D., Kerkez Đ., Tomašević Pilipović D., Dubovina M., Grba N., Krčmar D., Dalmacija B. (2019) Long-term application of stabilization/solidification technique on highly contaminated sediments with environment risk assessment, Science of the Total Environment 684:186–195.
Scientific exchange at the University of Szeged, Department of Applied and Environmental Chemistry (2012).
Analyst at Accredited Laboratory for Environmental Analysis "Assistant Professor Milena Dalmacija" (2010-2018).
Participation in the TRAIN programme modules: Presentation Skills (2017)
Member of the Management Board of the Foundation " Docent dr Milena Dalmacija "
Member of the Organizing Committee of the Memorial Scientific Meeting on Environmental Protection " Docent dr Milena Dalmacija "
Member of organizing committee of the School of Environmental Protection "Water Workshop".
Member of Serbian Chemical Society, Serbian Young Chemists club, Society for Water Technology and Sanitary Engineering, International Water Association (IWA)
President of the Environmental Protection Section of the Chemical Society of Vojvodina-Serbian Chemical Society
Secretary of the Chair for Chemical Technology and Environmental Protection (2021-today)
Training and Capacity Building for Enlargement and Integration Countries Open access to JRC Research Infrastructures – five-day online training programme given on 16th-20th November 2020 at the JRC Nanobiotechnology Laboratory
Online Policy Engagement Training Course as part of The Western Balkans Science Engagement Programme, 11 January 2021 to 18 March 2021.